Cheerleading Uniforms
At Cheer World UK, we strive to provide our customers with the highest quality, stylish, and affordable Cheerleading Uniforms on the market.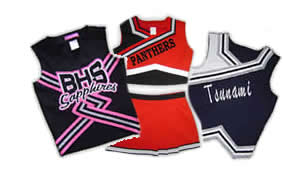 To view some of the uniforms we have previously designed and manufactured, you can take a look at our Uniform Gallery.
Any uniform you see on our website can be adapted to match your team's requirements. You can add metallic or sequin braiding, add logos, shapes, and change the colours. We can also match any top with any skirt.
If you cannot find an example of what you're looking for, please do not hesitate to contact us with your designs. There isn't much we can't do!
Uniform Pricing:
Starter Sleeveless Uniforms: Child's sizes from £37.50, Adult's sizes from £45.00
Starter Long Sleeved Uniforms: Child's sizes from £47.50, Adult's sizes from £57.00
Designer Sleeveless Uniforms: Child's sizes from £49.00, Adult's sizes from £58.80
Elite Long Sleeved Uniforms: Prices based upon custom uniform design. Contact us to begin your design process!
All prices include VAT where applicable. Prices do not include the cost of logos.
Please be aware we provide a lead time of 5-8 weeks for Cheerleading Uniforms. Please ensure your order is placed within plenty of time to meet your timescale.
*We make every effort possible to meet these timescales. However, sometimes there are delays in manufacturing and shipping that are unavoidable. We cannot be held accountable for such delays. Quantity of order and complexity of designs will also alter this timescale.
If you have any queries regarding Cheerleading Uniforms, please do not hesitate to contact us by telephone or e-mail.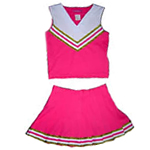 Starter Sleeveless Uniforms
Our classic, high quality Starter Sleeveless Uniforms are the lowest-cost uniform option – perfect for teams with a small budget.
MORE INFO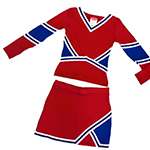 Long Sleeved Starter Uniforms
These cheerleading uniforms are the same high quality and made from the same materials as our other long sleeved uniforms.
MORE INFO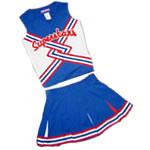 Designer Sleeveless Cheerleading Uniforms
Here are examples of just some of the designs of cheerleading uniforms that we have made. Please contact us if you don't see what you want….
MORE INFO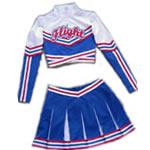 Elite Long Sleeved Cheer Uniforms
Our long sleeved cheerleading uniforms are made from light weight stretch fabric. Braiding can be plain, metallic or sequin. If …
MORE INFO
Save Please note any uniform designs created by Cheer World UK staff members are the property of Cheer World UK, and may not be taken to another supplier for manufacture.