Speciality Poms
Not quite found what you're looking for yet? You've come to the right place! Take a look at our Neon, Zebra, Laser and Crystal strands here.
If you're looking for something a little different, we have speciality pom strands that are sure to make you look the part. 
Available in four different sizes and with four different handles, we can make your dream Poms come true. Whether you need your poms for Cheerleading, Majorettes, Baton Twirling, or to add the finishing touch to your fancy-dress costume, we have you covered. 
All the following strands can be mixed with Plastic, Wet-Look, Metallic and Holographic strands. The price of your poms will be dependant on the combination of strands. Please contact us for an exact quote.
Crystal Strands
Add that iridescent look to your poms with our Crystal Strands. Available in Crystal Rainbow and New Crystal, these stunning strands will not disappoint. 
Crystal Rainbow strands are translucent pom strands with gold undertones.
New Crystal strands are translucent pom strands with blue undertones.
Crystal Rainbow Pom Prices:
4" = £10.00 per pom
6" = £10.50 per pom
8" = £11.30 per pom
10" = £13.25 per pom
New Crystal Pom Prices:
4" = £11.50 per pom
6" = £12.95 per pom
8" = £14.50 per pom
10" = £15.95 per pom
Laser Silver Strands
Laser Silver strands give the word iridescent a new meaning. These strands catch the light like no other, giving a kaleidoscopic effect to your poms. 
So many teams use regular silver strands to break up the colours of their poms – strand out from the crowd by going for Laser Silver instead.
Laser Silver Pom Prices:
4" = £9.95 per pom
6" = £9.95 per pom
8" = £10.95 per pom
10" = £12.95 per pom
Neon Strands
Be the most fashionable team at competitions with gorgeous Neon Poms. Bold and eye-catching, Neon Poms are perfect choice for the upcoming season. Our Neon strands are available in Red, Orange, Green, Pink and Yellow.
Neon Poms Prices:
4" = £9.95 per pom
6" = £9.95 per pom
8" = £10.95 per pom
10" = £12.95 per pom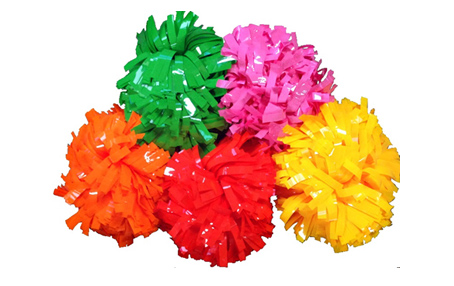 Zebra Strands
Go wild with Zebra Poms! Our range of Zebra Strands include:
Silver with Black Stripes
Zebra Poms Prices:
4" = £9.95 per pom
6" = £9.95 per pom
8" = £10.95 per pom
10" = £12.95 per pom