Not quite found what you're looking for? Then check out our great range of other
speciality poms

on offer!

If you're looking for something a little different from the norm, we can provide strands that will stand out from the crowd and make your poms the best in show!

Available in a variety of strand lengths and with a choice of four different handles – baton, stick with elastic, single D, and double D – there's bound to be a combination to suit your needs!
All the following strands can be mixed with our regular ones, price dependent upon quantity and mixture. Please speak to the office for more information.
Crystal Strands
If you're looking to add a little more shine and sparkle to your pom, how about our Crystal strands? These strands are gaining in popularity, and we've made many a crystal pom for teams over the previous few months! Either mix with a metallic colour, or keep them on their own for that wow-factor! Available in two different strands, please contact the office for samples.
Poms Prices:
4" = £10.00 per pom
6" = £10.50 per pom
8" = £11.30 per pom
10" = £13.25 per pom
Laser Silver Strands
Maybe you'd like laser? With iridescent silver shimmer, these strands catch the light and add a little bit of kaleidoscopic colour into any routine!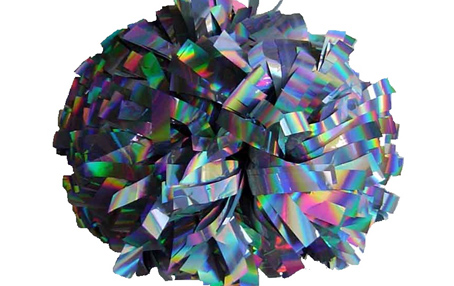 Poms Prices:
4" = £9.95 per pom
6" = £9.95 per pom
8" = £10.95 per pom
10" = £12.95 per pom
Neon Strands
If our regular strands aren't quite bright enough for you, why not go the extra mile and purchase our fluorescent coloured strands! Super bright and eye-catching, they'd be the perfect addition to any pom to give it that wow factor and colour boost!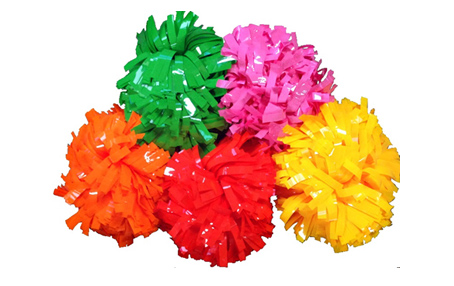 Poms Prices:
4" = £9.95 per pom
6" = £9.95 per pom
8" = £10.95 per pom
10" = £12.95 per pom
—
Whether you want cheerleading poms, majorette's poms, or just the finishing touch to a fancy dress costume, CheerWorld can manufacture almost any style you require!
Please speak to the office to enquire about the full range of colours available, for our free strand-sample postage service, and to place an order.
*Additional colours no extra cost if all strands the same finish.
Prices include VAT, but do not include postage. Poms take 2-4 weeks from payment for manufacture and delivery. We can deliver outside of the UK if required. Please contact the office on info@cheerworld.co.uk for more information and to place your order.
[/row]